What is Thai Yoga Bodywork?
Based on the northern style of traditional Thai Massage (Nuad Boran), Thai Yoga Bodywork is a sacred healing treatment that integrates traditional Thai medicine, elemental theory, and Buddhist spiritual practices. The first spiritual roots of this ancient system date connect to over 2,500 years ago at the time of Buddha in India, and were carried through the Buddhist teachings into SE Asia. These teachings merged with traditional therapies of the region at that time and because what we now call today "Traditional Thai Medicine."
Unique from other types of bodywork and massage, Thai Yoga Bodywork also combines rhythmic massage, assisted Yoga poses, acupressure along pathways of movement in the body known as the "Sen," healing energy work, and meditation.
Thai Yoga Bodywork offers a variety of trainings and traditional healing modalities based in eastern philosophy and medicine in the Minneapolis area, the US, and abroad with Tanya Boigenzahn, RTT, certified instructor, Registered Thai Therapist, and former member of the Executive Council of the Thai Healing Alliance International (THAI).
Tanya, and her assistant teachers, offer one of the only full certification programs in the US. She travels and teaches this amazing form of healing infusing it with yoga, ayurveda, energy medicine and yoga therapy studies. Devanadi's Thai Yoga Bodywork's 300hr Practitioner Training and Certification offers Continuing Education (CEs) via NCBTMB, various guest master teachers, and is a licensed school with the state of MN.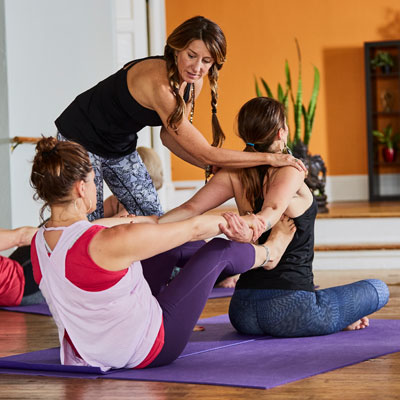 one-on-one
Thai Yoga Bodywork sessions available
Meet Owner/Director
Tanya Boigenzahn
Certification Details
Review training program requirements, hours and certificate completion details.